implement and professionally realise ideas.
Our current projects & selected properties from our portfolio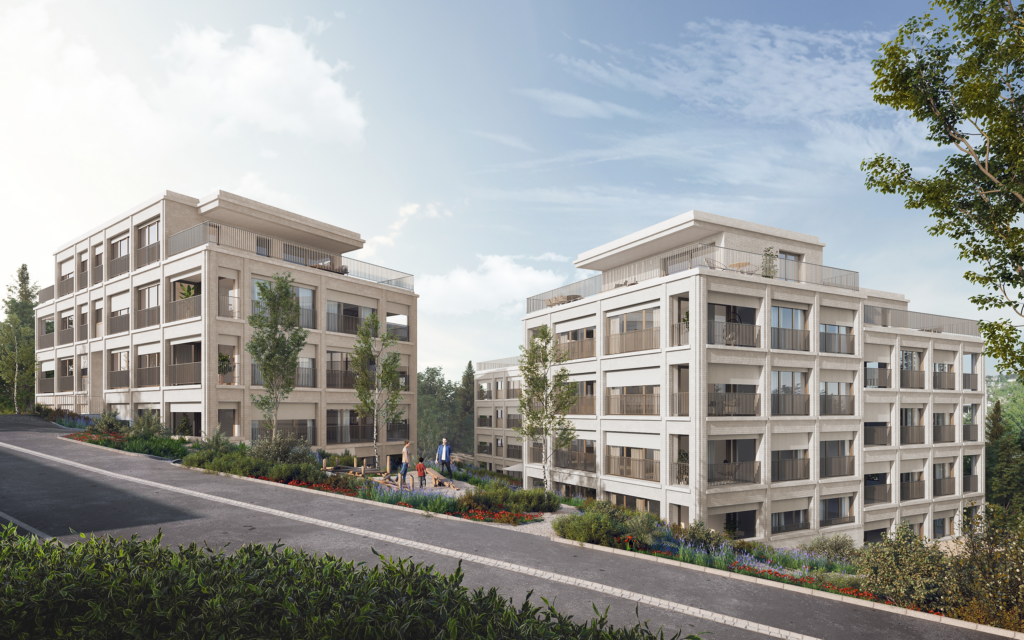 New build project
«BINNEO»
Bottmingerstrasse – Waldeckweg, Binningen
Popular residential community with an urban character. Direct proximity to public transport, shopping facilities, schools, sports facilities etc.
Units: 35
Type of building: 6 floors incl. parking garage/basement
Ready for occupation: beginning of the year 2024
STRIKING SIMPLICITY FOR MODERN LIVING WITH LIGHT AND SPACE.
The BINNEO construction project comprises 35 freehold apartments on Bottmingerstrasse and at Waldeckweg in Binningen. The two condominiums blend elegantly with their surroundings and are at the same time an architectural statement that defines and upgrades the quarter. With its façade made of clinker in warm beige and the rhythmical grid of the architecture, the high-quality double building is very striking. The interior courtyard with its areas of greenery, trees and paths all around a communal square and a playground offers a tranquil meeting place and ensures airiness and privacy between the two buildings facing each other. The main entrance spans two floors. The easily accessible parking garage is also generous and already prepared for e-mobility.
Light and simplicity characterise the BINNEO interiors and exteriors. Upon entering, you immediately feel the openness characteristic of this four-storey new build. Whether with 2½, 3½ or 4½ rooms: every apartment is set out invitingly with a refined design. A lot of glass ensures transparency and open views and the rooms are filled with light. In addition, targeted technology ensures ultimate comfort. At BINNEO you can enjoy a smart home and sweet home in one: from the running hot water and cooled mineral water direct from your Quooker to the intelligent apartment controls, powered by locally produced solar electricity directly from its own roofs.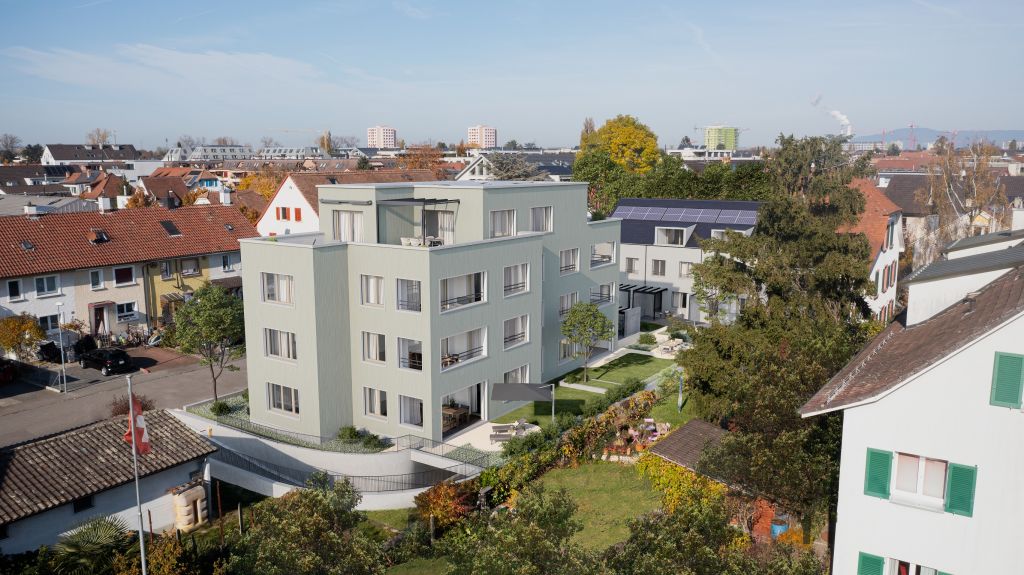 New build project
Amselstrasse, Allschwil
Quiet and sought-after residential quarter on a street with little traffic close to town
Units: 7
Type of building: 4 floors plus parking garage/basement
Ready for occupation: summer 2023
Living on Amselstrasse – amidst the easy-going and urban quarter
The elegant new build with 7 attractive freehold flats invites you to enjoy a new residential feeling in the midst of Allschwil. The project features modern & appealing architecture and is integrated harmoniously into the surroundings. Due to many areas of greenery and private gardens, all the apartments benefit from airiness and privacy. Here you can enjoy your personal oasis of wellbeing full of light and lightness in the immediate vicinity of town. Welcome to your dream flat in a four-storey new build that will be ready for occupation in summer 2023. Every flat – whether with 3 ½ or 4 ½ rooms – has an inviting design and is cleverly planned. The well thought out layout allows beautiful furnishing options. A lot of glass and an optimal orientation ensure light and an atmosphere of wellbeing.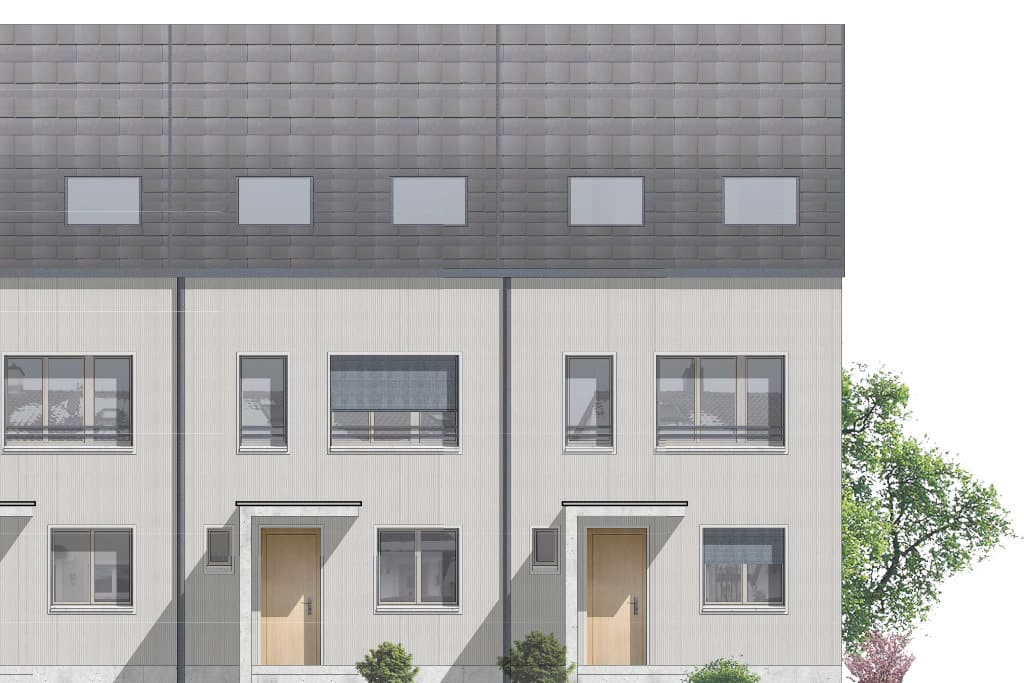 New build project
Lerchenweg, Allschwil
Modern Living in Allschwil
Units: 3 terraced single-family houses
Type of building: 4 storeys with direct access to the garage
Ready for occupation: autumn 2023
Your new home on Lerchenweg – in the heart of the family quarters
The 3 attractive new terraced single-family houses in the middle of Allschwil invite you to a new ambience. The project will impress you with its modern and attractive architecture and blends harmoniously into the environment. Thanks to many green areas and private gardens, there is room and privacy for your new home on Lerchenweg. Here you can enjoy your personal oasis of well-being full of light and ease in the immediate vicinity of the city. Your dream home will be ready for occupancy at the end of fall 2023. All 3 terraced single-family houses are invitingly designed over four floors and cleverly planned. The elaborate floor plan allows for effortlessly beautiful furnishing options and ensures a pleasant atmosphere.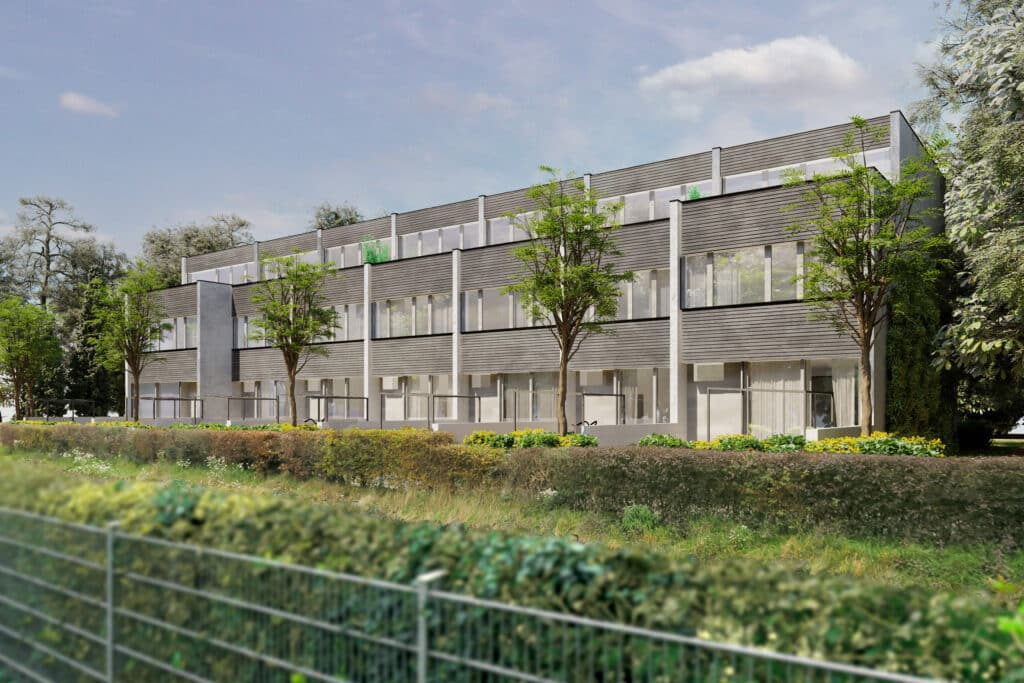 New build project
Meierweg 50 + 52, Riehen
Popular residential area and close to the Burgstrasse primary school and Bäumlihof secondary school.
Units: 11
Type of building: single-family terraced houses with 3 floors incl. basement and parking garage floor
Ready for occupation: autumn 2023
These single-family terraced houses feature a simple, rural beauty whilst still being practically in town.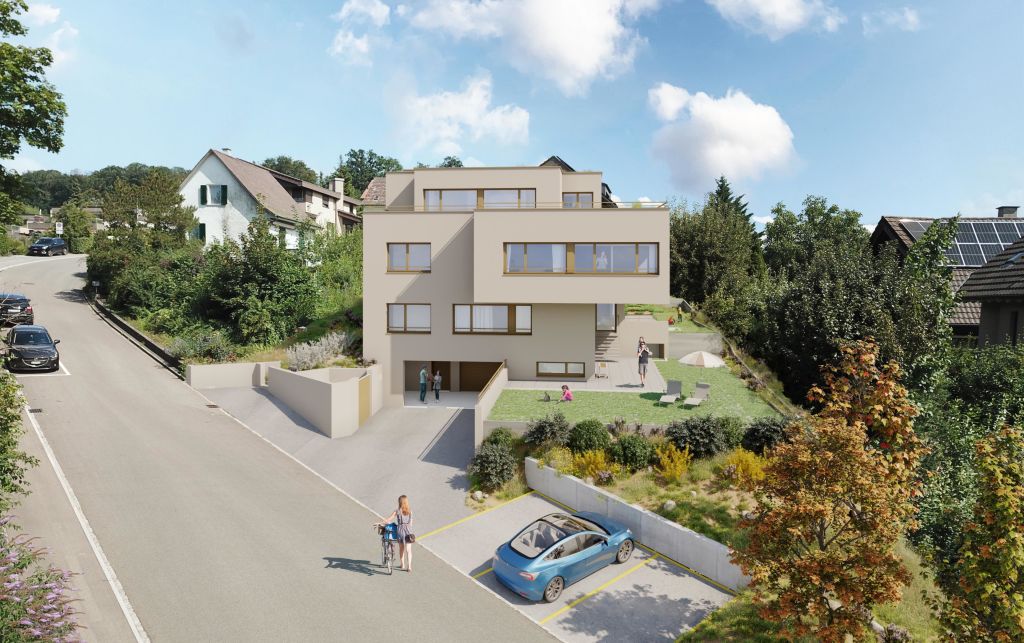 New build project
Hochlettenstrasse, Oberwil
Exclusive project with four residential units in a sought-after and slightly elevated location on a slope.
Units: 4
Type of building: 3 floors plus parking garage/basement
Ready for occupation: beginning of the year 2023
The Oberwil municipality stands by the values of reliability, commitment and sustainability; in other words, urban approaches that correspond to the spirit of the times.
Precisely these properties are reflected in the four modern and attractive freehold flats that we are building on Hochlettenstrasse 6, in a slightly elevated location, in Oberwil BL. Here you can enjoy a homely atmosphere right near the town.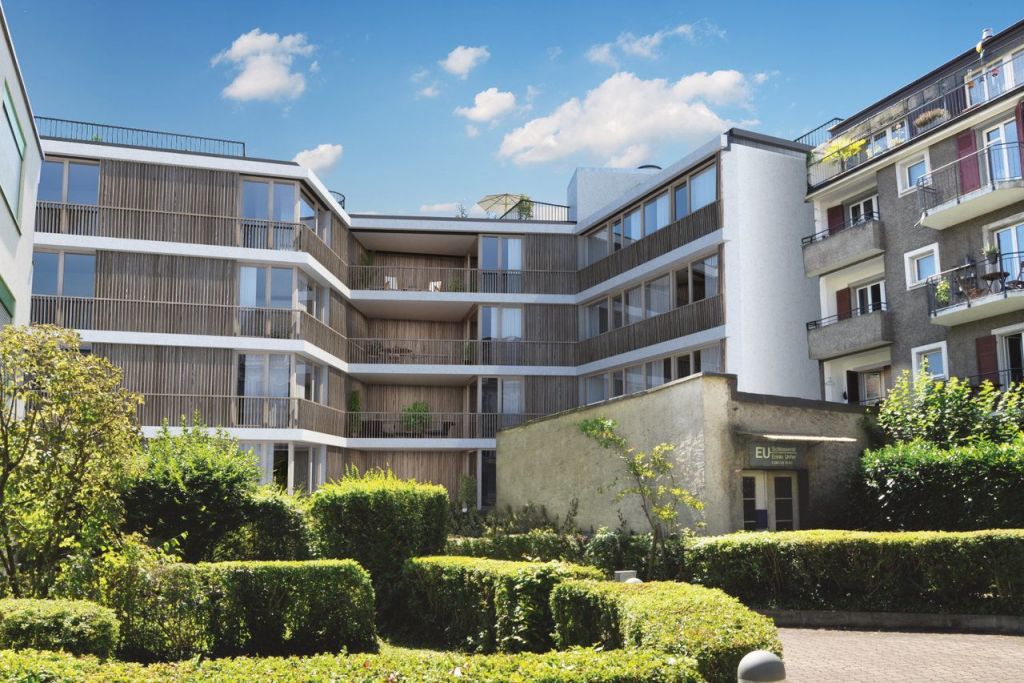 New build project
SH3
Sennheimerstrasse / Herrengrabenweg, Basel
High-quality architecture. Exceptional design. Highest degree of individuality.
Units: 37
Type of building: 5 floors incl. 2 parking garages
Ready for occupation: spring 2022
High-quality architecture.
Exceptional design.
Highest degree of individuality.
Three seamlessly connected building volumes between two streets with little traffic. An oasis in the midst of the town. Well thought through down to the last detail. High-quality materials and specification throughout. Designed and realised together with DEGELO ARCHITEKTEN.
Not two layouts are the same. Each flat has its own character, its unique view out. And an above-average room height exuding an airy atmosphere and will make you feel at ease. It will surprise your visitors. It will ensure that you not only live here but feel at home.
The front view appears urban. Concrete, glass and oak wood dominate. Soundproofed, floor-to-ceiling glazing towards the quiet one-way street, while clad with wood and a view towards private gardens to the rear. A place of peace and quiet.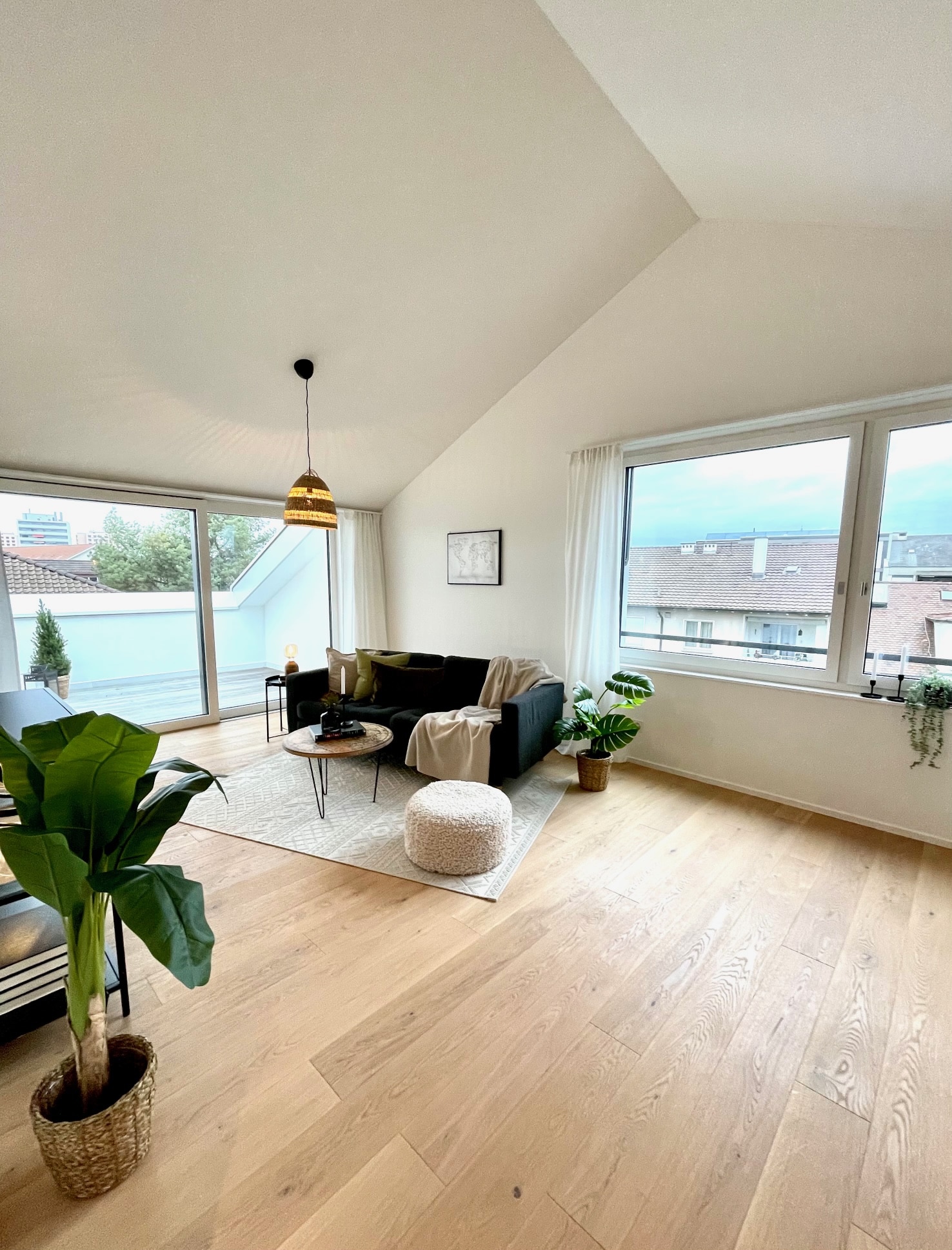 New build project
Schützenweg 12, Wohnung W8, Allschwil
Modern architecture. Classy design. Pure individuality.
Units: 8
Type of building: 4 floors incl. parking garages/basement
Ready for occupancy: immediately
Close to town, in the popular Allschwil municipality, a new build with 8 modern freehold flats completed in 2021.
Sunny – central – quiet
Within a few minutes' walk you can get to all everyday establishments:
Coop, Migros, bakery, doctors, pharmacies, public transport, sports grounds, walking paths, restaurants – almost all in the immediate vicinity.